Gold! Throughout history, man has desired and pursued gold. It is no different in the horse world. The gold sheen, the snowy white mane and tail have been an elusive element in horses. The palomino horse has been celebrated in myth, legend and recorded history from man's earliest beginnings. Since man first domesticated the horse, the golden horse has been highly prized by emperors, kings and queens. Palomino horses are found among the finest bloodlines of breeds from all over the world; their appeal is international. In Shetlands, one name stands above the rest for golden color: Realization.
Scott Uzell wrote in The Journal: Realization 24304, bred and owned by Colonel Leon Robinson of Dunkirk, Ohio, lived but 11 short years (1944-1955). However, during that span, Realization put Dunkirk on the map and turned Robinson's Pony Farm into "the fountainhead of palomino Shetlands."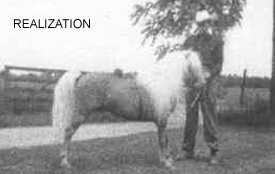 Realization was aptly named, for he was indeed just that – the "realization" of Col. Robinson's dream of producing a strain of palomino Shetlands.
Although it was his beautiful golden color that brought him fame, a look at Realization's background reveals there was much more than just color to his credit. Realization's sire and dam, Radiant Leon and Marilee M, were both cream-colored ponies bred by W.H. Sloppy of Marshalltown, Iowa. Sloppy was renowned as the originator of the Linnwood family, a strain of predominantly silver dapple, white mane and tail Shetlands.
Radiant Leon's sire, Hesitation Leon, a silver dapple bred by Sloppy, was a son of Jolly Boy Polk. Among Jolly Boy Polk's other progeny were Blondie Ann, the dam of Crescent's Copper Penny and Crescent's Golden Penny, Strawberry Ann, Hillswick Houdini, the dam of Little Masterpiece, and Bonnie Bride, the dam of Hillswick Oracle (purchased by Vern Brewer in 1959 for $35,000) and the great-grand sire of Rowdy!
It is easy to see how Realization came by his talent as a stud. He sired a trio of famous full brothers out of Red Lady Bug. One, Ver-Ken's Golden Ken, made quite a name for himself as the sire in the hands of Ken Reisinger of Eldora, Iowa, and The Real McCoy brought $10,000 at auction in 1957. The third brother was a magnificent palomino stallion by the name of My Golden Toy who sold for well over $50,000 in the 60s.
At the 1952 Ohio State Fair, My Golden Toy, as a two year old, won Grand Champion Stallion honors. Highly regarded British Judge Albert Hargreaves said he had never seen anything like him. My Golden Toy was later sold to Bill Marks of Winchester, Virginia, who by 1958 was selling foals by My Golden Toy for $5,000 at weaning!
It is a credit to the great sire Realization that, 43 years after his death, another "Gold Rush" had taken place through one of his grand-get, Gold Melody Boy.
In 1961, William Dalton of Hendersonville, North Carolina, bred Lightning Bug to Gin's Melody. Lightning Bug was bred by Col. Robinson and sired by Realization out of the great producing mare, Daffodil. Lightning Bug was a striking palomino with a strip and hind socks. Gin's Melody was a sorrel mare with a blaze and three socks, a mare rich in the Larigo breeding, another successful line of champions. The mating produced on June 19, 1962, a golden palomino colt Dalton named Gold Melody Boy.
William Dalton's son, Danny, of Timber Ridge Farm in Tennessee, continues: Dad was a Shetland breeder specializing in palominos which evolved from midget Shetlands to miniatures. He would guarantee a palomino foal when allowed to study the pedigree of a mare and select the stallion to which she was bred. Lightning Bug was one of the stallions he used to produce this popular color.
"We had two sales, the first in 1963 at which time Lightning Bug, Gold Melody Boy's sire, sold for $1,125. Gold Melody Boy was in the sale as a yearling, but did not sell. The second sale was in 1968 and was the first event ever held at the Western North Carolina Agriculture Center in Fletcher, NC, where many miniature shows and sales have since been held. More than 100 palominos of all breeds and several midget Shetlands were offered in this sale."
In the late 60s and early 70s, Dalton said Gold Melody Boy was bred to their mares and also used by J.C. Williams, Dell Tera Farms, NC. "During those years, Dad and J.C. would buy a herd of ponies together, then divide them, keeping the smaller ones and selling the big ones. One such trip even included a llama and a dead horse. It had a heart attack while being loaded!"
Dalton said several horses sired by Gold Melody Boy were registered with an unknown sire and dam because at that time "it was not cool for a miniature to be related to a Shetland."
In 1972, Lloyd Johnston was looking for a palomino stallion. Williams told him about Gold Melody Boy and the possibility of buying the stallion. On October 7, 1972, Gold Melody Boy sold to Johnston for $775.
Dalton's last foal crop by Gold Melody Boy was 1973, and Johnston's first foal crop was the following year.
"It is kind of ironic that Dad was the judge of the 1983 AMHA National Show when Boone's Little Buckeroo was named National Grand Champion Senior Stallion. This Gold Melody Boy grandson had a big role in starting a miniature revolution," Dalton added.
Johnston's Starlight Ranger, and National Grand Champion Junior Stallion, NFCs Sugar Boy. For AMHR, he produced two-time National Grand Champion Stallion, Gingerbread Farms Rapid Transit. Wittmaacks Mickey Mouse has produce a National Champion, Sterling Silver, and numerous Top Tens. Incidentally, the dam of the '97 National Grand Champion Junior Stallion is a Mickey daughter! Johnston's Gold Bar has produced several Top Tens himself. Johnston's Gold Boy has produced daughters who are proving themselves to be superior dams of champions.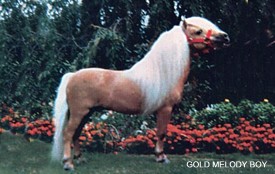 Wayne Booker, of Old Mulberry Hill Farm, said his bloodline started when he went to a miniature horse sale in the early 80s. While at the sale, he heard about a local lady who had beautiful palominos. The woman was difficult to locate, but he was finally successful only to find she had nothing to sell. He inquired where she had found her beautiful golden miniatures, and was told William Dalton of Peaceful Valley Ranch, NC.
"That was the start of my friendship with a fine gentleman and renowned horse breeder not just of Shetlands and miniatures, but of all breeds." Dalton acquired his original Shetland stock from Robinson, who in the late 40s bred the incredible Realization, the foundation head of a dynasty of the highest quality palomino line during the Shetland heyday (approximately 1948-1961).
Realization sired My Golden Toy and Lightning Bug, sire of Gold Melody Boy. Dalton purchased Lightning Bug and an inbred son of My Golden Toy to his full sister, which produced Little Toy. Little Toy and Lightning Bug were the "golden key" in Dalton's breeding, according to Booker.
"I purchased two palomino mares: a palomino filly and a 33" son of Little Toy from Dalton. Over the next several years, I purchased another cremello stud and ultimately bought my Gold Melody Boy son, Gold King. This was all before the Gold Melody Boy bloodline became so immensely popular. I remember Dalton was amused and pleased that I wanted both the Shetland and the miniature registration papers. Of course, during that era most people did not want a connection made between the miniature horse and the Shetland pony. I am a very small breeder and much of my success with my Shetlands and miniatures has been because of the friendship and knowledge Dalton graciously shared with me," Booker said.
According to the AMHA Studbook, Gold Melody Boy produced 34 registered offspring, 8 stallions and 26 mares. Of the 8 stallions, only 4 are alive or have produced any foals since 1985. The 4 who remain, trace offspring all over the country and form the foundation of many successful breeding programs. The names are familiar: Roan Ranger, owned by Joe Spino and Al Glass of S & G Miniatures, Chapel Hill, TN; Wittmaacks Mickey Mouse and Johnstons Gold bar, both owned by Judith Kurth of Alameda Farm, Lufkin, TX, and Johnstons Gold Boy, owned by Jane and Randy Walls of RoseHill Ranch, TX.
These stallions have done phenomenally well siring show horses. Roan Ranger has sired an AMHA National Grand Champion Stallion, Skip A Star; Reserve National Grand Champion Stallion,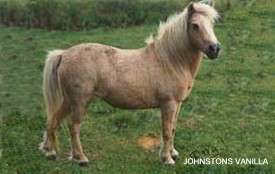 Gold Melody Boy daughters have been priceless treasures in breeding programs. Among the most familiar is Johnston's Vanilla, owned by Lowell Boone of Indiana. She has secured her place in history by producing Boone's Little Buckeroo (featured as the "Sire of Significance" in the May-June issue).
Examine the pedigrees of the horses bred by the Johnstons and Wittmaacks and you will find they used inbreeding and ine breeding extensively. The offspring they produced have a certain "look" that shows tremendous type, elegance and balance. This bloodline has passed these qualities on for generations and will continue to do so, because many of the farms that have miniatures from this line are practicing the same principles of breeding today.
Gold Melody Boy was owned and loved by the Daltons, the Johnstons, and the Wagners of Flying W Farms, where he died at the age of 21 in 1983. The story could have ended then, but in the late '80s and early '90s, Charles Penland, of SweetWater Farm, Greer, SC, was buying miniatures from all over the country and ended up with a few Gold Melody Boy offspring. He like them so well he began researching and located the Wittmaacks who had many of the line left. Penland was able to purchase a few, but the Wittmaacks were not interested in selling the entire herd... until Wittmaack was diagnosed with cancer. At that time, Penland purchased all their horses and asked Norma Wittmaack to trace the horses she and the Johnstons had owned and bred.
Many advertisements were placed in publications offering to buy horses bred by the Johnstons and Wittmaacks. This tactic proved to be very successful. Another lucky break came when Jane Zebus, of Cedar Grove Farm, leased Roan Ranger from Fredericka Wagner for one year. Penland purchased Jane's herd (all the mares were bred to Roan Ranger) and was able to keep Roan Ranger for the remainder of the lease. At the end of the lease, Roan Ranger was sold to Joe Spino and Al Glass and came to his final destination. Penland bred all the horses he acquired for many years until he began selling these horses to breeders around the country. The rest is history!