Without a doubt, Buckeroo is the most well-known miniature stallions in the world today. He holds the unequaled record of winning three National Grand Champion Senior Stallion Titles.He has captured the hearts of all that know him because he possess's the extreme brilliance, style, and athletic ability that is so very difficult to attain in the breeding of iniature horses.
Buckeroo is truly "Our Hero," continually siring not only his wonderful qualities of presence and
confidence but characteristics that produce generations of perfect little horses. These get retain the beautiful head, large eyes, graceful long neck, level top line, natural action and balance with excellent athletic ability and the important "Look At Me Look!"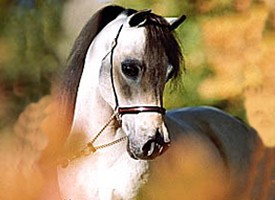 Buckeroo sires National Champions and has been awarded National Grand Champion Get of Sire three years consecutively. A long list is available of all his Champion sons and doughters, grandsons and granddaughters. "His Progeny Speak For Themselves"...
Buckeroo get and grand-get won innumreous National Grands, Reserve National Grands, National Champions and Top Ten Awards in Halter and Performance over the years in AMHA and AMHR Nationals! There is a distinct "Power of the Pedigree" in Buckeroo's progeny!SEVEN OF THE LAST TEN AMHA NATIONAL GRAND CHAMPION SENIOR STALLIONSARE BUCKEROO SONS OR GRANDSONS!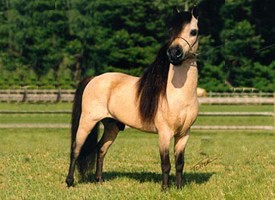 In May of 1998, Buckeroo celebrated his 20th Birthday with approximately 300 of his close admirers. It was a day of festivities and appreciation for Buckeroo's life long ccomplishments to the Miniature Industry. On Buckeroo's behalf, familiar people such as Ray Zoercher, Lowell Boone and Jane Macon spoke of Buckeroo's greatness and the part he has played in their lives.
It was a day that will be well remembered here at Little King Farm. All of the people who traveled great distances, to celebrate this one day, with this one horse proved the overwhelming influence, entrancing brilliance and awh-inspiring power Buckeroo possess.Buckeroo's list of champion get and
grand-get goes on and on.
His style and brilliance are visible for generations in years to come. It is the belief of many who have been involved with Buckeroo and his get over the years that this stallion will go down in the history of the miniature horse as one of the most prepotent valuable stallions in the foundation of the modern American Miniature Horse.
BOONES LITTLE BUCKEROO - a living legend